A new policy at Tufts University prohibits students in dorms from having sex while their roommate is in the room, according to the university's 2009-2010 student handbook.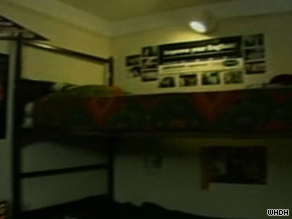 A school spokeswoman says students have expressed concerns over roommate having sex in the dorms.
The Massachusetts university's formal rule also bars so-called "sexiling" -- exiling a roommate from the room so the other roommate can engage in sexual activity.
The new policy "is really about consideration and respect for others and the need for students to be mindful of their roommates' need for privacy, study and sleep," university spokeswoman Kim Thurler told CNN.
She said while she did not have an exact number of complaints from students about their roommates' behavior, "over the last few years, the Office of Residential Life and Learning received approximately a dozen expressions of concern about this issue."
Callie Morton, a freshman at Tufts, told CNN affiliate WHDH-TV, "If someone is going to go and have sex while their roommate is in the room, I mean I think that's kind of gross. I think it's kind of funny that they would have to make a rule about it."

Watch Tufts students talk about policy »
Click to read
Visit Your Black World for the latest in Black News